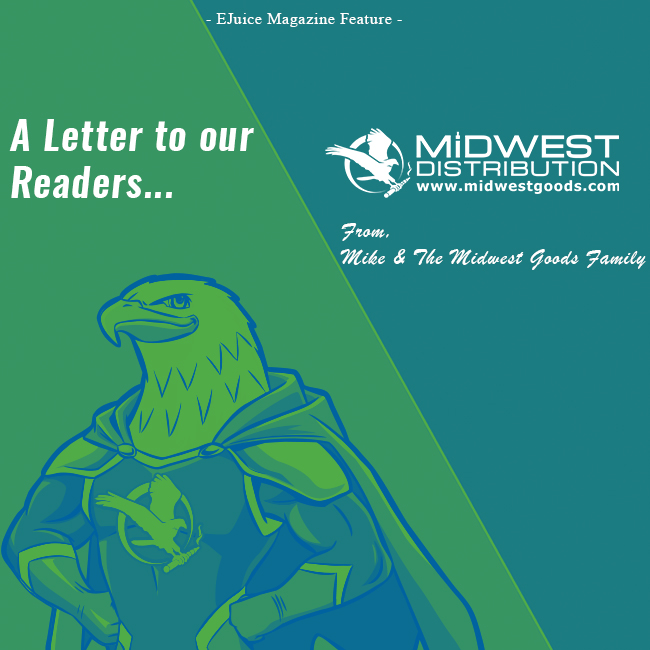 Hey Everybody!
First off, thanks so much for taking the time to read through EJuice Magazine.  It is really an honor to get to share with all of you some of the exciting things happening here at Midwest Goods.  My name is Mike, and I am the Customer Service Manager. I started working with Midwest almost 4 years ago, but I have experience with in the vape industry going back just shy of a decade. I think that having experience working in all facets of our industry brings a lot of insight into the challenges faced by our customers, and helps us best position ourselves to provide the best Customer Experience possible.
2018 was a big year for us at Midwest.
We have been expanding greatly and moving ourselves into an industry leader for our occupation. Fortunately, we have an awesome staff and have scaled up our entire operation, including our shipping and receiving teams as well as our front office teams. We have made some massive changes to our website, as well as a bunch of back end systems to help us be more efficient and make sure we are processing orders faster than we ever would have been able to just a few years ago. We have increased the size of our Customer Service Team and extended our hours of operation throughout the year to make sure that we can respond to all of our customer's inquiries and make sure they are getting the best possible support from our staff.  
Of course, 2018 was not without its challenges.
This year saw several states reform their vaper taxes, as well as continued rounds of regulation from the FDA.  But here at Midwest, we are always working as proactively as possible making sure we and our customers stay compliant with rules and regulations and we are keeping our knowledge base up to date so that our customers always have access to high quality and up to date information.  As we move through compliance, we also would like to remind all of our customers to work with their local vapor rights advocacy team to make sure you are compliant with your state and municipal laws as well.
It is amazing to continue to be a part of this industry and watch it continue to grow and expand.
I remember when I started vaping there were less than a dozen e-liquid manufacturers and there was no such thing as a physical retail store for vapor products; and here we are just a few short years later.  This industry is making an impact on the world, and I am very excited to see our customers grow through 2019.
As for us here in the Midwest Goods Customer Service Team,
We have so much planned already for this New Year.  We will be relocating to our new bigger warehouse, which will allow us to stock more hardware, more e-liquids, and offer a wide selection of new products.  We have already implemented a new phone system so we can take more calls and provide an easier contact system for all of our customers to get everyone responses with speed and efficiency. And, this year  we will also be transitioning to a new ticketing and live-chat system to make getting help easy. Our #1 priority is our customer and we are tackling the challenges to make ordering from Midwest Goods the best it can be! Many of our customers are going to be very happy with these updates.
It was a pleasure being able to write to all of you today.
I wish you the best of luck for you, your families, and your businesses through 2019.  As always, if you ever need help with an order or our website, our Customer Service Team is here to help.
Thank you all for reading & another year of EJuice Magazine!