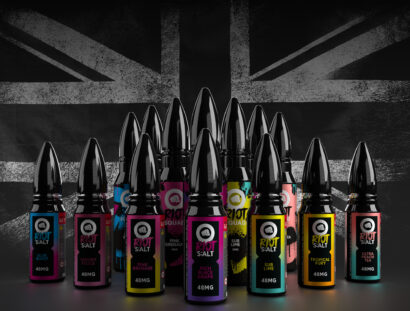 Ejuice Magazine: Please tell us about yourself, who are we interviewing?
Matthew Crann: Head of Sales at Riot Squad
EM: Lets jump right in, Riot Squad is a popular brand sold all over the world, your flavors are unique and award winning, can you tell us about some of the recent awards you have won?
MC: We were very honored to win a number of awards at the 2020 Ecigclick Awards. Generally regarded as the best of the vape industry awards in the UK, the Ecigclick awards are voted for by consumers. It's an opportunity for consumers to voice their opinions and reward quality & innovation within the vape industry.
We won the most awards out of any e-juice manufacturer, they were:
• E-liquid: Best UK Brand – Winner
• E-liquid: Best Fruit – Winner
• E-liquid: Best Beverage – Winner
• Nic Salt: Best Brand – 2nd
• E-liquid: Best Tobacco – 2nd
• E-liquid: Best Menthol/Mint – 3rd
We really appreciate people voting for us. It's been a tough year for everyone. With our award winning products and flavours we look forward to continuing to push the boundaries of what's possible in this industry and having tons of fun while we do it!!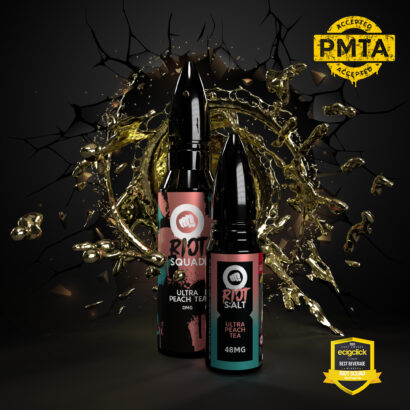 EM: All the buzz lately is about PMTA's here in the USA. Can you tell us a little about your journey into getting accepted for the first round of reviews?
MC: Our PTMA submissions are a key milestone in the Riot Labs journey which started back in 2015 to produce viable alternatives to combustible tobacco. The PMTA submissions conclude a process which has taken over 2 years, with 7 applications and over 1.8 million pages of scientific data submitted as part of the submissions. We are now progressing through the PTMA process. "We are delighted to announce that our first-round of PMTA applications have been accepted, a total of 35 SKU's split over 7 flavours.
"We pride ourselves on producing the highest quality products. Everyone at Riot Labs is fully committed to offering better alternatives to combustible tobacco products." We are here to stay in the US market.
Blue Burst – Winner of best Fruit at the Ecigclick awards
Ultra Peach Tea – Winner of best Beverage at the Vapouround & Ecigclick awards
Pink Grenade – Winner of best e liquid at the Ecigclick awards
Tropical Fury
Cherry Fizzle
Rich Black Grape
Sub Lime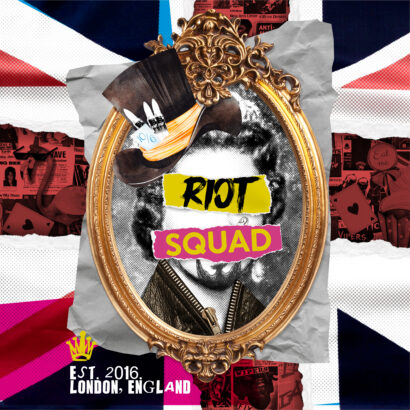 EM: Your Motto is amazing! Can you tell us about how you came up with "Stand Up, Be Counted, Never back Down" and what it means?
MC: Our motto is what we all live by here at Riot Squad, we carve our own path. It's never been about any form or riot or violence, it's about a mindset of those who don't follow a crowd.
Riot Squad is a lifestyle choice for those that don't want to conform with the everyday monotony of life, those who stand up for what they think is right. Being counted is the understanding that everyone in the world is important no matter who they are, are important.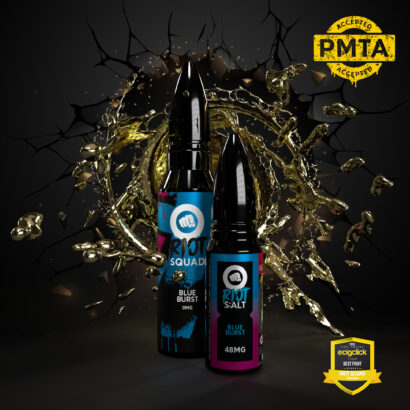 EM: Your bottles are obviously shaped differently than any we have seen, what made you decide to shape it like a bullet?
MC: We are always looking for the alternative and to be individual. Most other brands come in standard bottles, that doesn't mean ours have to as we aren't other brands. Originally it was chosen because our flavours were 'explosive' being the first to have a lemonade range in the UK, but since 2016 when we originally launched them our Chubby Gorilla Bullet Bottle has become a symbol of strength and solidarity. Our unique bottle is now globally the most
recognized bottle in the Vape industry.
EM: Your Nicotine salt E-liquids are the best I have ever tasted, is this due to your special Hybrid formula? Can you explain what a hybrid nicotine salt is?
MC: Our RIOT S:ALT range is built on hybrid nicotine, this is a unique and innovative blend of nicotine freebase and nicotine salts. Paired with our award winning flavours that we produce from a molecular level, it's the perfect alternative for any one wanting to make the switch from smoking to vaping.
The combination of the freebase and salt nicotine gives the most realistic alternative to a cigarette to help people stop smoking successfully. This range was proudly awarded 'Best Salt' range at the Ecigclick awards 2019.
We have a proud team of in-house flavourists that were trained in the worlds best Versailles Saint-Quentin-en-Yvelines University who create our flavours from a molecular level, meaning we do not use the industry standard food and beverage concentrates, we make our own designed specifically for vaping. This gives us an edge and makes our flavours unique.
EM: Riot Squad cares about the community around them can you tell us about how you support your community?
MC: We have many charities that we donate to, recently we ran a promotion where we gave 25p of every bottle to Kids Aid which does such an amazing job supporting children who have encountered severe trauma to lead healthier, happier and more fulfilling lives.
EM: You run a lot of contests, can you tell us about the most exciting contest you have ever run?
MC: Running contests is a great way to engage with our amazing customers and give back, as you know we always like to have fun with it. In the past few months we've given away PS5's, Nintendos, Electric Scooters, Beats Headphones and more mods and juice than you would find in an average store!
If you visit Instagram @riot.squad.eliquid everyone can enter, we spend over 50K a year on prizes and gifts to give away on our social so it's worth a peak!
EM: I noticed that you do a weekly video called vaping 101, educating your followers is important. What would you say is the best advice you can give to a new vaper?
MC: It's important to educate new vapers, our industry is very intimidating, and our goal is to live in a smoke free world. We want to give advice that is easy to understand in a language that new vapers will understand.
The most important thing we preach though is that if you don't smoke, you shouldn't vape.
EM: There was a Rock band called Riot Squad, have you ever been associated with the band and is there any connection?
MC: Never heard of them – maybe they copied us?