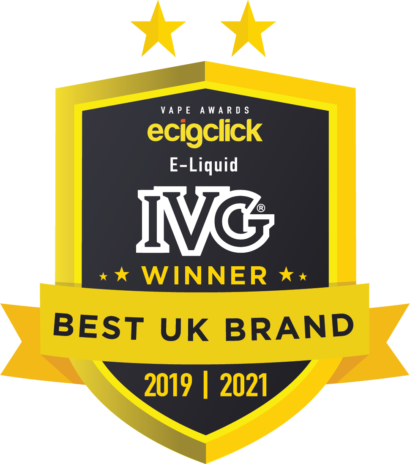 Ejuice Magazine: Can you introduce yourself and give us a little bit of your background?
IVG: Since 2016, Acme Labs have been on a mission to provide a quality alternative and experience to harmful cigarettes for adults of legal smoking age. Our founding and leading brand is IVG also known as I Vape Great, is one of the largest and globally known brands in the vaping the world, serving over 100 countries across 6 continents and has earned many awards from around the world including Best UK Brand in the UK to Best International Brand in Canada. Alongside our own brands, we offer an OEM service and strive to build strong relationships with our customers. Acme Labs are at the forefront of an ever-evolving and changing industry, and through constant innovation, attentive customer service, and initiatives to help combat underage use we aim to exceed public expectation of what a vape company can do, while prioritising our customers needs and concerns and continuing to offer a 'Greater' vaping experience. We keep innovating and transforming our operating models to develop a greater competitive advantage as we adapt to an ever-changing environment and generate sustainable growth. We further empower our people to lead our growth and business transformation in the face of constant challenges, living our principles every day. Ultimately, we aim to create sustainable economic, social, and environmental value for all of our stakeholders. Our products have served millions of customers around the world and we are proud to offer our customers a trusted product which is an alternative to harmful tobacco products such as cigarettes.

EM: How were you introduced to the vape industry, and what made you want to get into the industry?
IVG: We were introduced by friends who were already in the industry and were blown away at the number of Smokers who had given up harmful Tobacco for Vaping. At the time, the emphasis was very much on cigalike products and we felt the market was missing a 'lifestyle' brand that really focused on product development, technology and unique flavour profiles to ensure consumers were having the best experience possible. We have always been a consumer-led company and continue to strive to exceed customer expectations of what a vape company can do.
EM: With IVG having multiple lines, what is your personal favorite line from IVG and why?
IVG: Most definitely our nic salt collection , with many award winning premium flavours to choose from. Some of our favourites would have to be Riberry Lemonade, Frozen Cherries, Forest berries ice, Summer blaze & strawberry & watermelon.
EM: IVG has won several awards throughout the company's history, is there an award IVG has received that you are most proud of?

IVG: IVG is one of the largest and globally known brands in the vaping world serving over 100 countries across 6 continents and has earned many awards from around the world including Best UK Brand in 2019 and again winning this years Best UK Brand 2021 and Best Nic Salt Brand 2021 all at the ecigclick annual vape awards and also best international brand in Canada. IVG offers a total vaping solution, attracting both adult smokers and experienced vapers alike.
EM: How has IVG overcome some of the challenges that have been presented to the vape industry over the last 2 years?
IVG: It has been a difficult 2 years With COVID affecting how we work as well as shutting down stores over the first lockdown, we had to quickly adapt processes to allow us to remote work effectively. We were in constant communication with our key partners where we shared issues and solutions to help each other.
For example we gave all our customers free stock after the first UK lockdown to help them get started at a time when their cash flow would have been unexpectedly low.
EM: Where do you see the vape industry going in the next five to ten years?
IVG: Vaping is more popular than ever and the industry is only getting bigger and better. Everyone is becoming educated on what Vape is, and are starting to make informed decisions, as a result we are starting to see vape in the mainstream and will continue on this trend for the foreseeable future.
EM: Is there a message you would like to send to all of our readers?
We offer full marketing support and are always available for advice.
Get in contact with us today to see how we can help
Check out our socials:
Facebook: @ivapegreat
Instagram: @ivapegreat
Twitter: @ivgeliquids
Look forward to partnering up with you.