Every vape shop manager or employee has had a potential customer shy away from a sale when presented with a more impressive enthusiast level vape rig. Some customers have a desire for a simple easier to use, newbie friendly solution that pod systems offer.
Rather than having that customer walk out empty-handed offer them the solution that fits and make the sale. And later when they become more experienced vapors they can graduate to a more sophisticated mod.
But to start, pods are a welcome introduction to vaping and here is why.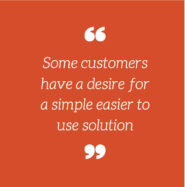 There are major differences between a pod and a traditional 3-piece e cig vape mod. Pods provide a more direct mouth to lung pull, and utilizes e-liquids that come in higher concentrations of nicotine. Pod systems are meant closely mimic a cigarette which makes them a viable option for people who want to quit smoking cigarettes.
Using a pod system is easy; like a cigarette the user draws in and collects vapor in their mouth before fully inhaling into their lungs.
In comparison, a regular vape mod requires the user to push a button to ignite the coil and then they can draw the vapor into their lungs.
Customers may like to start with a non-refillable popular brand such as Juul, Phix or SMPO. They are easy to use because you just pop in the pre-filled pods that usually contain 2ml of e-juice and have higher concentrations of nicotine which can help them quit smoking. The non-refillable pod systems will have 4 to 5 options for liquid flavor such as tobacco, fruit, and menthol.
If your customer has a big palette for flavor, they may choose a refillable option because the variety of e-liquid flavors are more abundant. Boulder Rock, Ghost, or Venvii FITT are all great pod systems that have refillable pods.
E-juice manufacturers are jumping to the cause and creating a special variety of e-liquid – nicotine salts created just for the pod systems. As a result, the variety of flavors has truly opened for pods systems. This allows vapers to fill their pods with any flavor they desire from the vast selection of e-juice available!
Although you can refill the pods, just like traditional mod rigs the coils will burn out and the refillable pod will need to be replaced with a new one. The refillable and non-refillable pods are meant to last a user anywhere from 2 days to an entire week depending on usage, and the batteries are not shabby either.
Pod system batteries can last all day. Now of course if you are chain vaping you can run out of battery in as short as 4-6 hours. But the same can be said about traditional vape mods, it just depends on how much a person is vaping as to how long the batteries will last.  And just like regular vape mods all pod systems come with a charging adaptor, some with custom fit types that can only be used with the device it comes with or some with a universal USB port.
The world of pod systems is fresh and evolving and that is exciting – who knows where the trend will go from here. Nevertheless, with all the convenience and choice of product, pod systems are a sure winner in the marketplace right now and are here to stay for a long while.